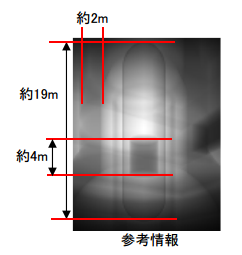 Photo : A sample image of muon scanning method inside of a nuclear reactor.
On 12/25/2014, Tepco announced they are going to scan inside of Reactor 1 ~ 3 in 2015 by using muon.
Tepco states there is a possibility that molten fuel might be flowing into the narrow parts of RPV (Reactor Pressure Vessel) and PCV (Primary Containment Vessel).
Tepco is currently developing two different technologies to "see through" the crippled reactors by using muon.
One is called "Scanning method". The detectors are planned to be installed after late in January, to be in operation around the beginning of February.
This method is going to be applied for Reactor 1, which even Tepco assumes no fuel remains in RPV anymore. (cf, Molten fuel might be out of concrete base to directly damage primary containment vessel of Reactor 1 [URL])
The other one is called "Scattering method". This is planned to be in operation from October. This method is applied for Reactor 2.
↓ The sample outcome of Scanning method.
↓ The installation of the detector of Scanning method.
↓ The detecting image of Scattering method.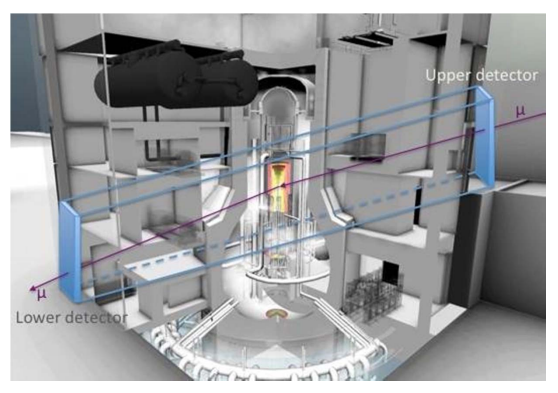 http://www.tepco.co.jp/nu/fukushima-np/roadmap/images/d141225_11-j.pdf
http://irid.or.jp/topics/%E5%AE%87%E5%AE%99%E7%B7%9A%E3%83%9F%E3%83%A5%E3%82%AA%E3%83%B3%E3%81%AB%E3%82%88%E3%82%8B%E7%82%89%E5%86%85%E3%81%AE%E7%87%83%E6%96%99%E4%BD%8D%E7%BD%AE%E8%AA%BF%E6%9F%BB%E3%81%AB%E5%90%91%E3%81%91/
http://irid.or.jp/wp-content/uploads/2014/11/140731_03.pdf
Iori Mochizuki
The post Tepco to start "scanning" inside of Reactor 1 in early February by using muon appeared first on Fukushima Diary.
Source: Fukushima