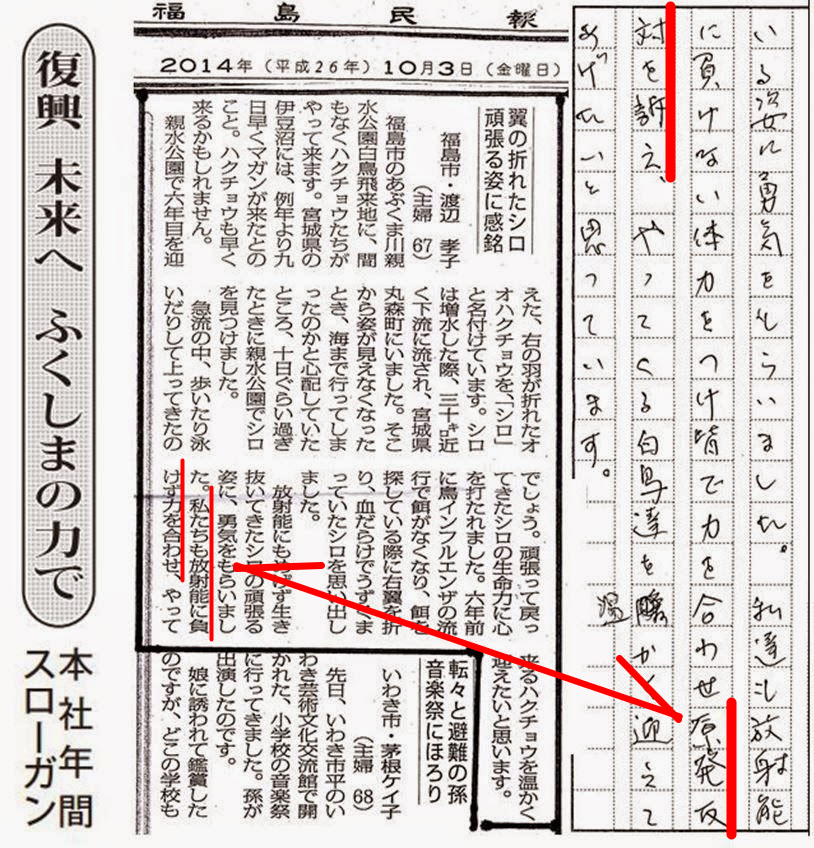 A Fukushima local newspaper "modified" a reader's contribution article on 10/3/2014.
The contributor (Housewife, 67 years old) stated to compare the published article and her own draft. The newspaper company is "Fukushima Minpo", which has the largest circulation in Fukushima prefecture.
She wrote that she was very inspired by the swans coming to Fukushima prefecture and she was cheered to survive in radioactively contaminated area and fight against nuclear policy with everyone.
However the newspaper company removed the part of "fight against nuclear policy" and left only "survive in radioactively contaminated area with everyone".
She complains that she was displeased but Fukushima minpo hasn't made any public announcement.
↓ The red lined part on the right side is missing in the left part
http://besobernow-yuima.blogspot.ro/2014/10/blog-post.html?spref=tw
Iori Mochizuki
The post Fukushima local newspaper removed the part "Fight nuclear policy" from reader's contribution article appeared first on Fukushima Diary.
Source: Fukushima