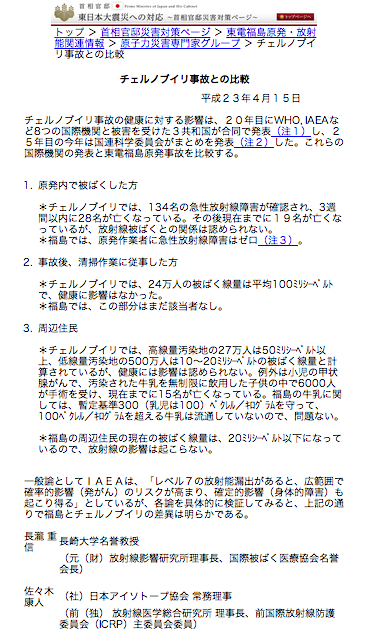 According to Japanese embassy in Ukraine, the government of Japan signed in Kiev to send 350 million yen of medical support to Ukrainian government.
This gratis fund aid is to support the victims of Chernobyl nuclear accident, which is a first part of 150 billion yen support to Ukraine that Japanese Prime Minister Abe announced in G7 this March.
However back in 2011, Prime Minister of Japan and His Cabinet reported that the death cases due to Chernobyl nuclear accident was only 15.
This is the announcement published on 4/15/2011, titled "Comparison of Chernobyl and Fukushima". The picture below is the screen capture from their website.
Prime Minister of Japan and His Cabinet states the announcement is based on the consensus of 8 international organizations including WHO and IAEA, and 3 victimized nations.
In the announcement, Prime Minister of Japan and His Cabinet comments 19 people died in Chernobyl nuclear plant after the accident, but no relationship with radioactive exposure was admitted. No health effect on liquidator was found.
There was no recognizable health effect seen among the neighboring residents except for 6,000 children to have gone through thyroid cancer surgery. However, only 15 of them died.
Their announcement published after 311 clearly concludes Chernobyl accident killed only 15 children. The rest of 6,000 children have already had thyroid surgery.
The government of Japan concluded there was only negligible health effect in Ukraine due to Chernobyl accident, but sending 350 million yen of medical support.
http://www.kantei.go.jp/saigai/senmonka_g3.html
http://tirashinoshita.blog.fc2.com/blog-entry-1442.html
Iori Mochizuki
You read this now because we've been surviving until today.
The post JP Gov to sent 350 million yen to Ukraine as medical support for Chernobyl victims appeared first on Fukushima Diary.
Source: Fukushima