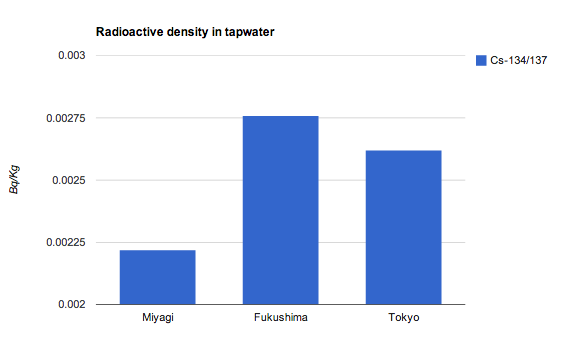 Photo : The campaign of Tokyo Metropolitan Government to drink Tokyo tapwater. They also sell it as bottled tapwater. [URL]
Cesium-134/137 density in tapwater is higher in Tokyo than Miyagi prefecture, where is next to Fukushima prefecture, according to NRA (Nuclear Regulation Authority).
On 4/30/2014, NRA reported the radioactivity level in drinking water by prefecture from January to March 2014.
From this report, Cs-134/137 density was 0.00222 Bq/Kg in Miyagi prefecture. However it was 0.00262 Bq/Kg in Tokyo.
The reading of Fukushima prefecture was 0.00276 Bq/Kg.
NRA hasn't explained the reason.
http://radioactivity.nsr.go.jp/ja/contents/10000/9223/24/194_20140430.pdf
Iori Mochizuki
You read this now because we've been surviving until today.
The post Radioactive density in tapwater higher in Tokyo than Miyagi in first quarter of 2014 appeared first on Fukushima Diary.
Source: Fukushima