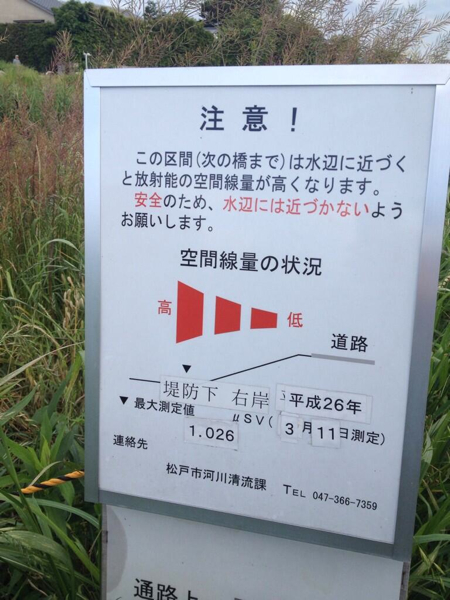 ↑ A warning of Matsudo city gov in Chiba. It reads "In this area (to the next bridge), radiation level goes higher toward the river. For the safety measure, please don't go close to the river. The highest reading was 1.026 μSv/h on 3/11/2014."
Matsudo city government in Chiba warns not to go close to the river side.
It's Kokubu river.
From their survey on 2/26/2013 (their website states it was 2013, but it can be a typo of 2014), the highest reading was 1.33 μSv/h at 1m from the ground beside the river.
Especially around a bridge called Reimei, they measured over 1 μSv/h at 3 points. The area was blockaded by the municipal government.
In their following survey of 3/11/2014, they still measured 0.804 ~ 1.026 μSv/h.
Usually water shields radiation so the radiation level can be lower than other locations. However the river seems to accumulate the contamination in Chiba prefecture. Fukushima Diary recommends not to get close to the river in Kanto area. (cf, Fukushima gov to open swimming beach / 94 Bq/Kg from sea floor, but don't even check sand [URL])
http://www.city.matsudo.chiba.jp/chuumoku/houshasen/taisaku_taiou/kouenhiroba/kasennseiryu.html
http://radiation7.blog.fc2.com/blog-entry-3694.html
Iori Mochizuki
You read this now because we've been surviving until today.
Source: Fukushima