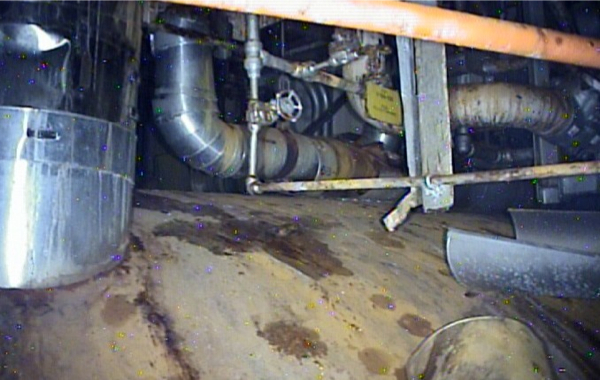 ↑ 2.4 Sv/h was measured around this point.
↑ Steel plate lay over the aisle.
Following up this article.. [Video] Tepco identified a leaking part on reactor1 vessel / Pipes are rusted and starting deteriorated [URL]
Tepco measured 2.4 Sv/h on the basement floor of reactor1.
On 5/30/2014, Tepco implemented the follow-up robot survey in reactor1. They ran the robot in torus room to investigate the coolant part called suppression chamber.
From their report, the atmospheric radiation level was 200 ~ 500 mSv/h in most of the areas, but they detected 2,400 mSv/h at one point. A steel plate was detached from somewhere and lay over the aisle to stop the robot moving ahead (The picture above). The pipes were severely contaminated nearby the high radiation level area, but detailed readings are not announced.
This time, video wasn't published either.
http://photo.tepco.co.jp/date/2014/201405-j/140530-01j.html
Iori Mochizuki
You read this now because we've been surviving until today.
Source: Fukushima